CXBOX India serves with customer engagement for restaurant chain through restaurant Loyalty programs in Chennai, India. Restaurants in India face a huge competition across different F&B verticals of India which made them to have a effective loyalty program to retain customers with the Brand.
What is restaurant loyalty programs?
Restaurant loyalty program gives unique offers or benefits or discounts to repeated customers starting from every visit to the Brand outlets or restaurants.
How do restaurant loyalty programs work?
Customers visiting restaurants are segmented using a unique ID to identify each and every reputed customer of the restaurant brand. Customers will receive points which is accumulated on their unique loyalty program ID and which gives them gifts or Offers or other value added benefits on their next visit. Customers get points accumulated based on the spend value of the visits or online orders through ecommerce platform owned by restaurant brand.
How do you build a restaurant loyalty programs?
Restaurant loyalty programs should always be in a easy to use method to attract customers. CXBOX in India helps the loyalty programs to implement restaurant loyalty programs for any restaurants of any size starting from mid sized restaurants to high sized restaurants in India.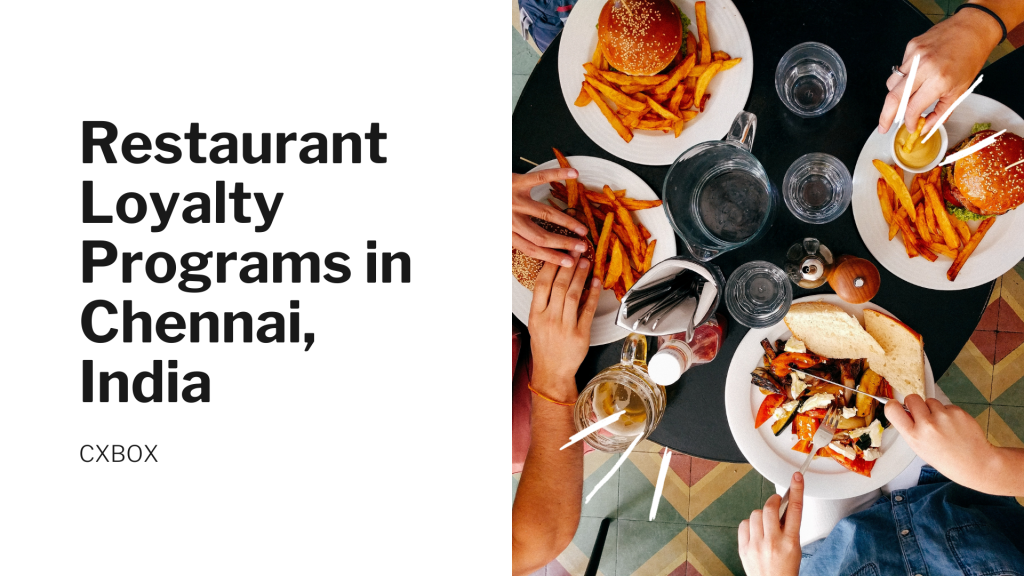 6 ideas of restaurant Loyalty programs in India
Point Based loyalty program can be implemented to a restaurant by giving points to the customers on every purchase and encourage the customer to visit the restaurant again to redeem those earned points.
Reward Network Based Loyalty program
Reward Network Based Loyalty program can be implemented to a restaurant by offering coupons of different restaurants  on certain spend value. This programs enables a person to visit other restaurant brands. To activate this program, the restaurant should be registered with multiple restaurants and coupons offered within the registered reward network.
VIP Club loyalty program can be implemented to a restaurant by providing special benefits to their frequent buyers such as "SKIP the QUEUE" , "Wallet Parking" and much more. VIP Club Loyalty program is a loyalty program managed for premium customers of the brand.
Tier Based Loyalty Program
Tier Based loyalty program can be implemented to a restaurant by segmenting the customers in multiple tiers. The brand owner can decide on number of tiers required for a loyalty program.
Gifts Based Loyalty Program
Gift Based loyalty program can be implemented to a restaurant by providing exclusive gifts for the selected customers which engage the customers in a personalized way. Gifts can be mentioned as a customer will receive only after certain number of visits to the restaurant within fixed period of time.
we have identified that Referral loyalty program works a restaurant which increases 39% of new visitors in a month. Referral loyalty program makes both the referrer and referee to get benefited from the restaurant brand.
TIPS for a Effective  Restaurant Loyalty program
Digital programs works well in F&B Industry
let the staffs interact with customers on registering a new member to the loyalty program
Simple and easy to understand type of program
Customer visit based and activity based loyalty program
More Freebies to customers based on their behavior
A customer should be encouraged in registering in a loyalty program based on their shopping behavior with the restaurant. Customer experience is the important factor to implement restaurant loyalty program and  to make the customers check the loyalty program. Incentivizing a customer on his purchase will make him more engaged with the brand.
We from CXBOX offer AI driven program ideas based on the data analytics and recurring concepts in loyalty programs for a restaurant which makes our CX restaurant loyalty program a successful