Whether Loyalty Programs Can Help Retail Brands During COVID 19 Pandemic?
Retailers across this globe are facing currently this covid19 unique Issue. We have experienced recessions and other economic events that have slowed business. This is the first event that is majorly impacting our in-person business highlighting the need to be prepared for anything. Retailers should not lose sight of their network by continuing to engage with their vendors and partners. Customers will likely have many questions and take social media to get answers. Contingency planning is critical under any circumstances and we are seeing this pandemic unfold is evidence of that.COVID 19 has prompted the e-commerce industry into a new era.
Marketplace expansion – Marketplace platforms like e-bays, Facebook, Amazon can drive brand awareness and growth. One of the interesting example is large marketplace brands such as e-bay lists their store on sears.
Optimize online business – The best part of the e-commerce is to test new businesses. Add on services such as warranty products that offered to customers at checkout.
The loyalty programs show that no retailer can predict what the future holds and the key taken away should be the retail brands should expand their core offering into multiple layers of value that can appeal to customers in the value of crisis. Add on services such as warranty products offered to the customers at checkout, they are ready to make the extra investment to protect their purchase will increase brand loyalty.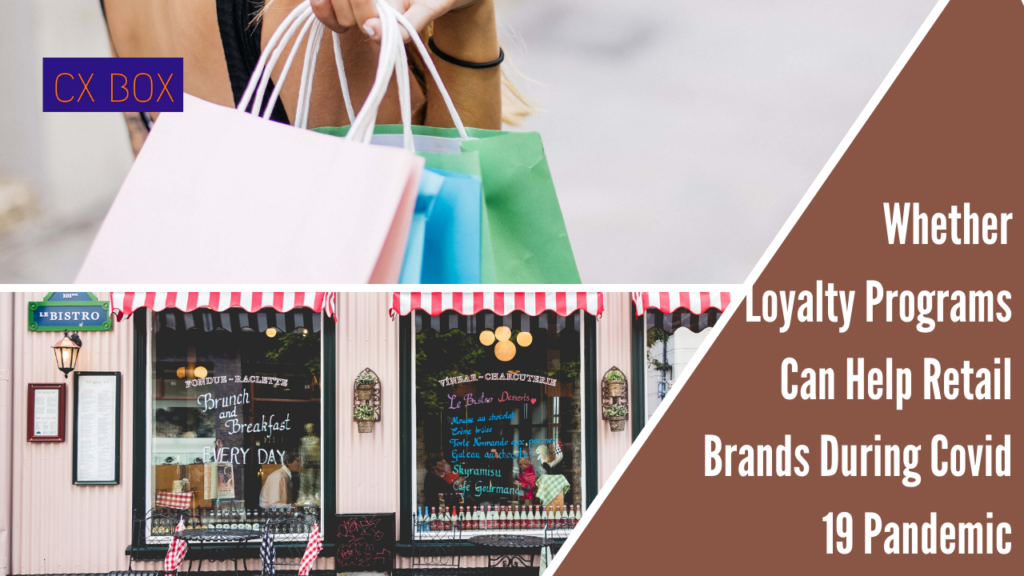 What is a customer loyalty program
A customer loyalty program is a structured and long term marketing effort that provides incentives to repeat customers who demonstrate loyal buying behavior. Successful programs are designed to make customers come often and to make purchases. It is a rewards program that offers free merchandise, rewards, coupons, or advanced release products. These loyalty programs are highly effective tools for retaining customers and also attracting new customers. The purpose of the customer loyalty program is it strengthens the relationship between the business and the customer. To create a customer loyalty program the following steps should be followed.
Select a good name.

Create a deeper meaning for that name.

A variety of customer actions should be rewarded.

Offer a variety of rewards.

Make your points valuable.

Structure non-monetary rewards around the customer values.

Provide multiple opportunities for customers to enroll.
Steps in customer loyalty program
There are six main steps in the customer loyalty program.

Determine what you want to achieve

Loyalty programs will set your overall strategic approach in the right direction. Set your targets as to build brand awareness, higher-value sales, frequent repeat visits, 

etc.

Set an achievable customer goal 

It will be proud enough to say if you are a gold level member. If your customer goal is too high to achieve handle it with a tiered rewards program. Customers can benefit from the loyalty program even in a short span.

Choose your loyalty program type

The type of loyalty program is determined by the overall business goal. Before building a loyalty program make sure that the path to reach the customer is clear and attainable.

Give incentive to start – A great way to start is to give incentives. For example if you buy a new credit card you will be offered 30,000 points upon signing.

Make your success measurable – A great way is to do a customer survey, to rate the business, or to recommend a friend.
Impact of loyalty programs in Indian business
The extension of lockdown is also a great impact of loyalty programs. The quality of merchandise services will give customer satisfaction and that leads to profitability. The risk is reduced as some customers stay loyal, and that is the benefit for the customers. The competition in the Indian retail sector is at its peak and to make exclusive themselves from others loyalty programs have been set up. The impact has increased the rate of success for loyalty programs that have been implemented. The reward card programs have been set to provide and maintain rewards to the customers.
Examples of loyalty programs in India
The topmost five examples are given as follows.
Time points – It is a reward program that rewards every time whenever you go Times of India, Economic Times, Maharashtra Times.
Jet privilege – It is a loyalty program for jet airways and Etihad airways that rewards passengers for flying in these airlines.
Times card – It is a co-branded credit card offered that adds happiness and excitement in a day to day life.
Payback – Payback is one of the largest multi-brand loyalty program. The diverse portfolio of partner brands spans daily shopping needs.
Citi rewards – These rewards can transfer their points to frequent flier programs.
How to create a loyalty program for your brand
At first, include a user-generated content component. Then enable two-way communication. Emphasize visual information. Personality matters most in creating a loyalty program. The rewards will be updated in the status. Then by next explain the process clearly by the best loyalty rewards program. Take advantage of the social media by the loyalty program services. Then by next use experiences as incentives so that errors can be reduced. So that customers can be satisfied better. The participation should be made easier and partner with a charitable cause.By following these steps create a loyalty program for your brand and the reach of your brand will be great.